The way we choose to live is always changing. This has been true in 2021 as well with the pandemic still turning our lives upside down and remote work and study impacting the way we live.
While we have been constrained by Corona in many ways, it has also expedited a lot of the living trends which actually lean more towards flexibility and mobility.
An overall theme in the trends we are about to reveal is the tendency towards smaller and less permanent housing and living, which also impacts other areas of our lives like storage and travel tendencies.
Let's take a look at the top 5 trends in living that 2021 has revealed..
Trend 1: Tiny houses and "small living"
A huge trend that started well-before the pandemic is that of "tiny" or "micro" housing, originating mainly from the US.
At this point tiny houses are flooding our instagram feeds, going hand-in-hand with another super trendy movement of downsizing and minimalism (read our blog post on minimalism here if you are interested).
So what is a tiny house or micro apartment? Well it's pretty much what it says on the tin: a very small home. According to the 2018 International Residential Code it is a home with "a maximum of 37 square meters".
Basically the size of a generous living room. We know, we know, that sounds pretty crazy. But living in small spaces can have a lot of benefits for yourself and also urban planning and today's space shortage that many cities are experiencing.
On a personal level we learn to downsize and live with less, which can have tremendous freeing and mind clearing benefits in our consumer driven world. And on a communal basis it can help create more homes in space poor and expensive areas.
According to trenddesignbook Berlin, Paris, Barcelona and London are all developing large amounts of micro apartments to help with their space challenges.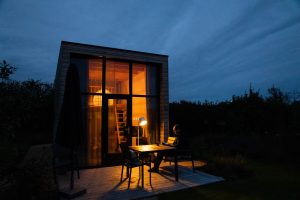 Trend 2: Furnished apartments
Another trend that is on the rise is people moving into completely furnished apartments. It's not surprising that in our convenience and on-demand culture this trend is occurring.
Many people don't want the hassle of designing and furnishing their place when this could already be part of the living package. More and more real estate companies are providing this option, having furniture and even kitchen utensils ready-to-use in their apartments.
There are a few more benefits to furnished apartments. For example, just imagine how much easier it is to move from one furnished place to the next without all those heavy pieces.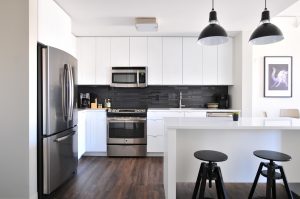 Trend 3: Apartments for digital nomads
Similar to furnished apartments, a lot of living spaces are now catering specifically to digital nomads. On top of providing furnished places, they specialize in the needed amenities for work. Things like co-working spaces, excellent wi-fi and community events where digital nomads can meet each other on their trips.
A company that is spearheading this exciting trend is Blueground. This proptech company emphasizes how its spaces are perfectly set up for convenience and productivity. This means high-speed wifi, office spaces and desks. They are active in over 3 continents, which means you can hop around apartments and cities while working remotely.
With storage companies like SaveSpace, it's even easier nowadays to make your digital nomads dreams come true. If you know you are gone for a few months, they'll just pick up your things, store them and bring them back at the end of your travels.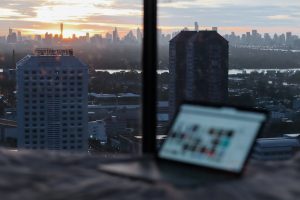 Trend 4: Co-living spaces
Living with others isn't just for students anymore. No in 2021, it can be for anyone who likes to live somewhere and straight away have a community of like-minded people.
You have probably already heard of co-working many times. Now, we've got the next "co" trend and it's called co-living.
It's fun, it's affordable and it's flexible, everything we, especially young people moving to expensive cities, are searching for these days.
All co-living places have their own style and set up. But usually everyone has their own bedroom and often bathroom, but communal areas like the kitchen, living room and outside spaces are shared. It's like going back to university, but a little more luxury (and cleanliness) is usually involved.
Co-living is amazing when you just move to a new city for a new job and are not sure how to meet new people or grow your community.
One drawback is that you won't have much storage space or a basement most of the time, but if you are thinking of doing co-living and you are in Frankfurt again, you can hit up SaveSpace to pick-up and store your things for an incredibly affordable rate.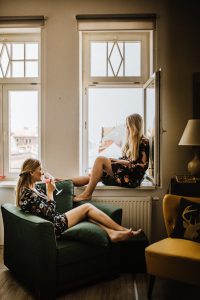 Trend 5: Living the RV lifestyle
Ok, so we had to include this one, if 2021 has been the year of anything, it probably has to be the year of camper vans and RV's.
With the uncertainty of air or sea travel this year, the camper van has been the go-to. Sales of camper vans and RVs hit an all time high in the first quarter of 2021 according to the RV industry association. .
This one may be more of an add-on or vacation living trend, but it's definitely impacting how many people live several months of the year. Once it's easier and less risky to book plane tickets and hotels, it will be interesting to see how this trend holds up.
Having said that, some people have already stated to be doing work on the road and conducting business remotely from a camper van or RV. This is possible with today's widespread and high-speed mobile internet.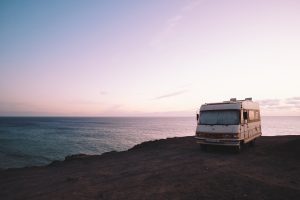 There you have it folks, a few of the most noticeable trends in living and home! Who knows maybe some of you will ditch the big apartment and get cozy in a tiny house soon…